Crown FM CT-1 Receiver
Internal Translator Receiver
Click or read below for manual and specifications: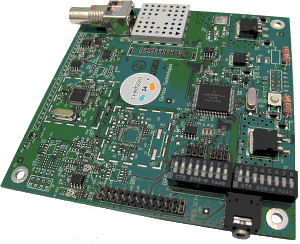 CT-1 Specifications (below)
Frequency Range

76 to 108MHz  (this will allow the unit to work at Japanese frequencies also)

RF Input Connector/ Impedance

Uses a standard N connector/50 Ohms.

Power

DC +12 Volts DC

Harmonic Distortion

Stereo < 1.25% THD + Noise

Mono >  .2% THD + Noise

Stereo Separation

Better than 35dB (38dB Typical)

Sensitivity

Monaural

(demodulated, de-emphasized)

2 Micro V for S/N > 40dB

Stereo

(19kH pilot frequency added)

35 Micro V for S/N >50dB (SINAD)

Bandwidth and Rejection

Automatic Setting of bandwidth signal strength of desired signal

FM Signal to noise

65dB, Typical 70dB

1st Adjacent Channel Rejection

66dB

2nd Adjacent Channel Rejection

73dB

Ambient Temperature Range

Better than 0 to 50 Degrees Celcius

Size

FM Receiver Module is 4.5″ x 4.5″ Mounted internally into Crown FM30-FM600 watt units

Weight

FM Receiver Module weighs 4 oz.  Shipping Weight is 1 pound.