Crown Broadcast is proud to announce a new Internet Remote Control (IReC-1) Interface Module for Crown Classic Transmitters.
Scroll down for more product details.
For technical details or questions about this or any other Crown product, please contact Don Pettifor at dpettifor@irec1.com or 866-262-8917.
To place an order please contact your dealer. Or, if you don't currently have a dealer, please contact Laurie Thompson at lthompson@irec1.com or 866-262-8920 and she will be glad to assist.
Customers:
Please be sure your dealer knows you want to include this module with your new transmitter.
Once this module is installed, there are no ongoing charges or fees to be paid for this service. Your standard Internet fees may apply.
We have plenty of modules in stock and can ship immediately.
If you would like to explore the features of this product, please contact us at service@irec1.com for a special link and code to access a live demo right from your own electronic device.
---
IReC-1 Interface Module
Click here for IReC-1 manual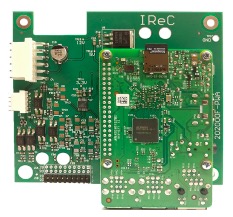 Built with the quality and flexibility of all Crown Broadcast products, this micro-processor-controlled module enables nearly all existing and current Crown Transmitter users to remotely monitor and control their Crown Classic Transmitter from a computer or cell phone.
This Module is available for only $399. If ordered with a new transmitter it will be pre-installed. The IREC Module may be added to existing Crown Classic transmitters as a Crown Broadcast factory upgrade, or as an upgrade kit for installation by a station engineer.
Features:
Internal mounting for Crown Classic Transmitters
Adds remote Metering/Control/Status function
SMTP, SNMP and NTP
Provides Programmable alarms for e-mail alerts
Three levels of Password Control
Low power consumption for ultimate reliability
Long-term logging of transmitter parameters
Utilizes Opto-coupled control –no mechanical relays
Easy path for future upgrades