Crown Broadcast is proud to announce a new Internet Remote Control (IReC-1) Interface Module for Crown Classic Transmitters.
Click here for IReC-1 manual.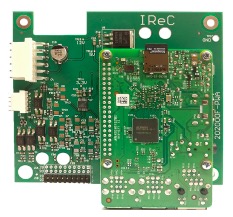 Built with the quality and flexibility of all Crown Broadcast products, this micro-processor controlled module enables nearly all existing and current Crown Transmitter users to remotely monitor and control their Crown ClassicTransmitter from a computer or cell phone.
This Module is available for only $399. If ordered with a new transmitter it will be pre-installed. The IREC Module may be added to existing Crown Classic transmitters as a Crown Broadcast factory upgrade, or as an upgrade kit for installation by a station engineer.

Features:
Internal mounting for Crown Classic Transmitters
Adds remote Metering/Control/Status function
SMTP, SNMP and NTP
Provides Programmable alarms for e-mail alerts
Three levels of Password Control
Low power consumption for ultimate reliability
Long-term logging of transmitter parameters
Utilizes Opto-coupled control –no mechanical relays
Easy path for future upgrades